On attending nurse-led wound clinics following Skin cancer surgery, many patients are still shocked/surprised by the surgical outcome.
At the time of consultation, the procedure is explained verbally and with the aid of diagrams. This is to enable a patient to understand the procedure they are consenting to undertake. Despite this, it is often difficult for a patient to visualise the out come of the surgery process.
This page gives Maxillofacial patients the opportunity to see photographs of previous patients who have gone through similar, if not the same procedures as them. It focuses on the process, from scar development to healing period. It takes around 12 months for scarring to develop and each patient is individual when it comes to healing.
Please note: all of the patients photographed below have consented to their photos being used for this purpose.
Rotation Flap Cheek
---
Post surgery
Two weeks post surgery
One month post surgery
Three months post surgery
Classic Glabellar Flap
---
Pre surgery
Post surgery
Post surgery (surgery removal)
One month post surgery
Pre surgery
Post surgery
One month post surgery
One month post surgery
Vertical Triangular Advancement Flap
---
Pre surgery
Post surgery
Suture removal 
One month post surgery
Pre surgery
Post surgery
Three months post surgery
Pre surgery
Post surgery
Three months post surgery
Pre surgery
Post surgery
Three months post surgery
Karapandzic Flap Reconstruction
---
Pre surgery
One month post surgery
Two weeks post surgery
Suture removal
Two months post surgery
Rhomboid Flap Cheek
---
Pre surgery
Post surgery
One month post surgery
Pre surgery
Post surgery
Post surgery (suture removal)
One month post surgery
Pre surgery
One month post surgery
Helical Rim Reconstruction
---
Pre surgery
Post surgery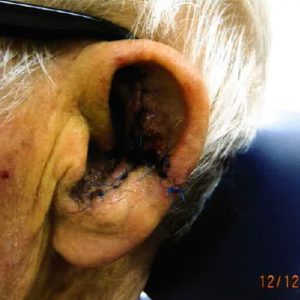 Suture removal
One month post surgery
Pre surgery
Post surgery
Three months post surgery
Bilobed Flap Lateral Nose
---
Pre surgery
Pre surgery
One month post surgery
Post surgery
One month post surgery
Three months post surgery
Bilateral Advancement  Flap
---
Pre surgery
Post surgery
Two months post surgery
Pre surgery
Post surgery
Two months post surgery
Three months post surgery
Dorsal Nasal Flap
---
Pre surgery
Post surgery
Suture removal
One month post surgery
One month post surgery
Paramedian Forehead Flap
---
Pre surgery
Post surgery
Second stage
Two weeks post second stage
Three months post surgery
Three months post surgery
Nasolabial Flap
---
Pre surgery
One week post surgery
One week post surgery
One week post second stage
One month post second stage
Pre surgery
Post surgery first stage
One month post surgery (second stage)
One month post surgery (second stage)
Transverse Triangular Advancement Flap
---
Pre surgery
Post surgery
Suture removal
Six weeks post surgery
Pre surgery
Post surgery
Three months post surgery
Full Thickness Skin Grafts
---
Pre surgery
One week post surgery
Post surgery
Six weeks post surgery
Six months post surgery
Pre surgery
Post surgery
One month post surgery
Pre surgery
Post surgery
One month post surgery
Six months post surgery
Pre surgery
Post surgery
Pack removal
One month post surgery
Three months post surgery
Pre surgery
Pack removal
One month post surgery
Three months post surgery
Pre surgery
One week pack removal
One month post surgery
Three months post surgery
Pre surgery
Post surgery (pack)
Pack removal
Two months post surgery
Purse String/Round Block Suture for Partial/Total Closure of Wound
---
Two weeks post surgery
One month post surgery
Three months post surgery
Swirl Flap/Pinwheel Reconstruction
---
Pre surgery
Post surgery
One month post surgery
Three months post surgery